Font Size [
larger
|
original
|
smaller
]
Blog
---
Progress Motivation
"
A journey of a thousand miles begins with a single step.
"
Confucius
Custom Search
---
Articles/Learning
---
Useful Tips
---
Miscellaneous
---
Recommendation
You don't need to be a CEO to drink CEO Coffee in Malaysia :)
Created on Thursday, 9 January 2014
As a coffee lover like me, drinking a cup of good hot coffee can lift me up much. While I am not those coffee expert who can identify all the types of coffee and it's characteristic, I do really enjoy coffee a lot nevertheless. But I limit myself to only a cup a day la for health reason. We all know coffee contain caffein and too much caffein is not good for our health.
Most of the time, the coffee I drink is those 3-in-1 coffee. Maybe I am too lazy :) And recently I came to know this coffee. This coffee has a funny name, "CEO Coffee" :) What I like of this CEO Coffee is the taste. With the original bitter taste of the content of lingzhi in it, I think it blends perfectly well with coffee. Secondly, this CEO coffee also healthier than my regular 3-in-1 coffee because of the lingzhi in it. And interestingly after you drank it, your cup won't have stain too unlike many other coffees out there!
If you are also coffee kaki like me, I would like to recommend this CEO Coffee to you. And the price for a packet is about 3 times cheaper than the Starbuck Americano. This can also be a good gift to your good friend, lover or family member who likes coffee. Contact me if you are interested to give it try. I am sure you will like it too once you have tasted it.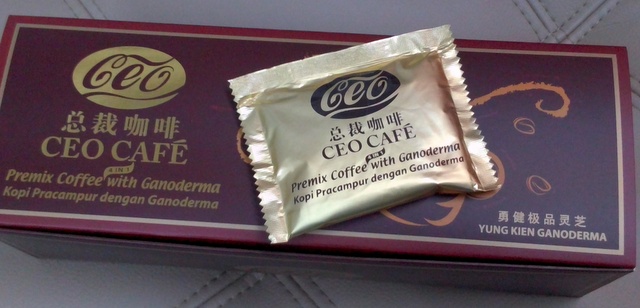 Some even did a comparison with other normal coffee:

Ingredients
Normal Coffee
CEO Coffee
Coffee Bean
- 20~30% natural coffee only
- Fried with Margarine
- Added with artificial coloring, flavouring (Coffee, Hazelnuts, etc),
- Added with Preservation
- 100% pure coffee bean
- Roasted
- No artificial coloring, flavouring, or preservation
Creamer
- Palm Oil or Vege Oil
- Full of Trans Fat
- High quality Coconut Oil
- Without Trans Fat
- Smooth silky texture
Sweetener
Processed White Sugar
Natural Sugar made of Sugar Cane
Lingzhi
None
Added with precious Yung Kien Lingzhi
Conclusion
- Taken in lots of artificial thing that is harmful to our body
- Trans Fat clog blood vessel Processed white sugar burden our body especially the pancreas and kidney
- 100% natural
- Helps expand blood vessel thus encourage blood circulation Coconut oil- based creamer helps clean blood vessel, reduce weight etc.
- Natural sweetener directly absorb by our body as energy.
- Non oily
- Great natural coffee aroma with smooth silky taste